Water & Scratch Resistant Printable Wristbands
SIVA's Inkjet printable Tyvek wristbands are a great solution for short-term use, designed to last on the wrist from a few hours upto 1 day. These wristbands are produced using flashspun high density polyethylene fibre material from DuPont along with a unique inkjet receptive coating.
These wristbands provide users the flexibility & ability to print small or large volumes of Tyvek wristbands, on-site & on-demand with upto full colour & variable data using inkjet printers. The result is crisp and digital colour print wristbands which stand out.
The printed image is water resistant & scratch resistant*
*(subject to using the correct ink type and using genuine inks. Get in touch with us for printer & ink recommendations)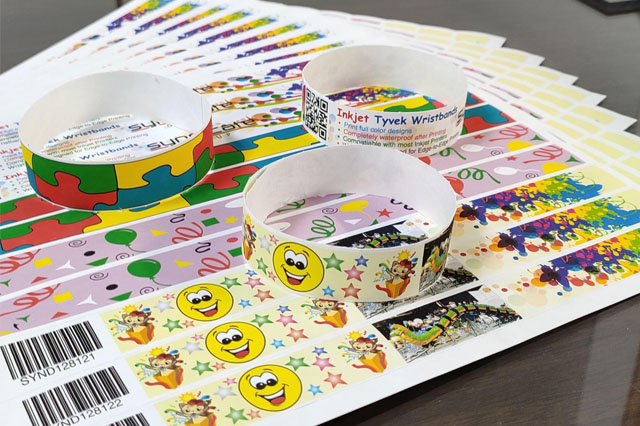 SIVA's Inkjet printable Tyvek wristbands are waterproof, stretch-proof & tear resistant.
Featuring an adhesive closure and special "tamper evident" cuts which cause the wristbands to shred on any attempt to open/remove the wristband from the wrist.
SIVA also offers a "Litter-Free" version of it's Inkjet printable Tyvek wristbands ensuring the adhesive release liner remains intact on the wristband, keeping sites free of litter caused otherwise by loose release tabs falling and spreading everywhere.
Inkjet printable Tyvek wristbands come in 1" and ¾" width options.
TRY OUR PRODUCTS!
You can directly submit your queries related to our product by using contact form.